The pocket dimension is an exceptionally useful feature added with the launch of the Conquest of the Wizardlands expansion, although a limited version of it is available in the standard game. This one room dimension can be used to store endless amounts of loot. Access to the pocket dimension is gained once the Wizard Keys are found, usually on the first couple floors.
Appearance
Edit
Players without the Wizardlands expansion (or those playing games started before the expansion was installed) will find themselves in a brick room resembling the first level of the dungeon, with four light sources in the middle area of the room.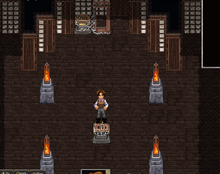 Players with the expansion will find two additional features: a device in the middle of the room allowing the player to customize the appearance of the pocket dimension, and a console on the north wall allowing travel to other dimensions. In addition, the player may interact with the four light sources in the middle of the room to change their appearances.
Time does not flow in the pocket dimension. Buffs, debuffs, spell cool-downs, health and mana regeneration are paused until returning to the dungeon. Eating, drinking, and spell-casting are not permitted. Crafting, however, is possible, making the pocket dimension the perfect place to store ores, ingots, powders, acids, tools, and other crafty items. Monsters do not spawn in the pocket dimension.
Players access the pocket dimension by pressing the blue gateway icon in the lower right of the screen. One exits by pressing the gateway again. Entering the dimension takes no time, and when the character leaves, they will be in the exact same situation they were before - same buffs, same monsters, etc. There is a 30 turn cooldown between uses, so care must be taken to not leave before one is ready.
Dimension traveling
Edit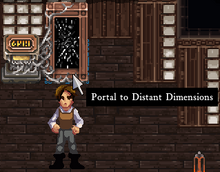 Using the device on the north wall, the player can enter various arcane addresses to access different dimensions. These addresses can be found as glowing graffiti throughout the dungeon. Entering anything other than a valid address will send the player to Diggle Hell., which shows a fleshy red portal. The dimension gate takes on a sparkling black appearance if a valid address was entered and a sparkling red appearance if not, warning the player about the gate's destination. Characters may enter addresses found by other characters, as long as that particular address has not previously been visited by either character.

Like the Strange Dimension, there is no emergency exit from either Diggle Hell or the Wizardlands. The player must fight through the level to locate the exit, which appears as a tile charged with blue magical energy. Each Wizardland is similar in difficulty to the level where the address was found. They are also relatively small. Once left the Wizardland becomes unavailable to all characters, so valuable loot should not be left there.

Completing a Wizardland will earn the achievement "The Magic of the Wizard's Hangover".
List of arcane addresses (per level)
Edit
Frizarcragorwa
Togliookiigorgor
Ufurlioogorfro
Wkzargorgoruz
Wkitunfgorom
Argcracragorpot
Arguzporgorzar
Bangunfuzmagewn
Bangzarizgorpok
Bikpotseegorzar
Binbatwegorjo
Binfurnuzgorjaf
Chrjafizgorcra
Corpbelporgormag
Corpkullfurmagjo
Cornchujafkolbel
Cornkullpokakjo
Cronguzakpok
Cyrlechmaggornus
Darpotzangorjaf
Denjalomgorpot
Denkolnggorpor
Denmagseegorzan
Denseechugorom
Fojorahgorunf
Fokulluzgorcha
Fringnggorzan
Frikullgorgorpok
Kancrakullgorlech
Kegcrafrogoriloo
Korprhorhoakbel
Korpzukfrogorcha
Krmkiiewngornuz
Lkizbelgorjo
Lkjalrahgorbel
Lkngkolgorak
Lkzanarpakng
Llweewmwagorcha
Llwezukchugorchu
Llwezukkiigorkii
Mlotwepokgorng
Mutakbagorcra
Mutchuchagorjal
Naizkiigorunf
Nanokunfakiz
Nanusewngorzan
Negseegormagjo
Nogporomgorlech
Pakakkiiakiz
Pagmagnusgorfur
Pilitfurgorpor
Pilrahfrogorewn
Plchakullgoruz
Pltwemaggorkull
Pnurahfrogorfur
Popotzukgorary
Posbelkiigoruz
Pospotrahgorrah
Powpokzargorzar
Pnulioocraakng
Twyrhocragorjo
Ukolnusgorlioo
Upotchagorit
Upotpotgoruz
Valpokkullakit
Wkpokitgorkol
Zanititgorba
Zankullzargorzuk
Zanomjogorlech
Zechazarargornus
Zeizmaggorit
Zekiiuzakfur
Zooomrahgorzuk
Zptwemaggoruz
Argjafwamagnus
Bangkolewnmagbel
Blalechizmagjo
Blapotzarmagewn
Bzatkullommagpot
Chruzkolmagunf
Cornrahwamagit
Corntwenuzmagarp
Croewnitmagcha
Crowatwemaggor
Foarpakmagtwe
Folioopotmagak
Inbeltwemagrho
Inzarbelmagwa
Kanompotmagit
Kromzarkullmagmag
Llewelechmagmagak
Mlojokiimagzan
Negakmagmagnuz
Nogakunfmsgbel
Sapzanrhomagcha
Twyakcramagnus
Powmagngarpzar
Zanizkullmagjal
Zeomgormagnus
Bzatomjafmaglioo
Achkullolzar
Argkullzarkolunf
Bzatfrokiiolit
Croewnmagkoliz
Eykiifrokolkii
Izchapotkolpor
Kannuzukolgor
Korpchulechkolom
Korprahpotkolmag
Maslechomkoliz
Nangkolrah
Nogseeseekoltwe
Posjafzankolnuz
Pufrobakolpok
Togizuzkolnuz
Togkolpotkolnuz
Togzuknuzmagak
Twychurahkoljo
Uzukizkolrho
Valpotzarkolewn
Zoochaliookolit
Zpporjafkolpok
Chrseebelkiilioo
Corpzukmagkolba
Frilechjafkiipor
Inbaarpkiiak
Korptwekolkiiit
Kromlioofurkiiho
Krompokjafkiiak
Llwebaizkiikol
Mutwaporkiisee
Nogjojokiizuk
Nogjonuzkiifro
Pnufroewnkiirah
Powzarkiijo
Twybelizkiiunf
Wkpokcrakiimag
Binngkullkullom
Chrkullfurkullgor
Chrpokbelkullmag
Cyrarpfurkullarp
Cyrgoritkullmag
Frijozarkullfro
Fwbacrakullchu
Kromlechmagkullak
Lkchanuzkullsee
Pakporjokullgor
Pnunuzunfkulluz
Powjoewnkiizar
Twyzartwekulljaf
Ukullchukullewn
Zoobelkullrho
Zoozannuskullfur
Achcraizlioozuk
Bangchaaklioopok
Folioozukchuak
Kyzukzanliooak
Pakjalzarlioonus
Zangorarplioobel
Zepokrahlioocha
Zoochabakiitwe
Bikseebellechkull
Dengorkulllechrah
Fokolzuklechjal
Izrhobalechuz
Mutjalarplechnus
Pakzukpoklechak
Plwamaglechpor
Pnubaporlechfro
Wkchakulllechit
Izakngngnus
Fripotgorngba
Llwechumagewjno
Mutpornuzngnuz
Level 10
Edit
Binseefurnusrah
Wkzannuznusit
Level 11
Edit
Mlojafnuzomfur
Mutlioolioomgor
Pilarpuzomjo
Croewnporomsee
Level 12
Edit
Cornjallechpakrah
Mascraporpokfro
Pnuzukzarpokkull
Poschachupoktwe
Posseelioopokwa
Uzarzarpokom
Wkrahseepokjal
Level 13
Edit
Bangbakiipotit
Masfurwapotkull
Pakkiinuspotnuz
Pnurhomagpotrho
Level 14
Edit
Banggorporcra
Corpkullakporkol
Cornporchaporrah
Nogseebaporjo
Wkakzukportwe
Pujalzarporzuk
Level 15
Edit
Twyngrahrahcha
Sapliooarprahiz